Using Bold Fashion Trends to Create Memorable SWAG
---
By Dean Schwartz (SWAG Master): Creating bold fashion for your employees or clients to wear proudly can be a daunting task. The current trends, material, sustainability, and availability all dictate whether something is "cool" or not – and if you're not tapped into the scene you risk wasting your investment and – even worse – making your brand look behind the times.
Choosing the right type of "bold fashion" is imperative, which is why our SWAG Experts are here to help. We'll keep your company updated on all of the current trends and hip you to cool new gear that's coming down the pipeline. Interested in seeing a few examples? Continue scrolling below or click the button for our full presentation.
Are you a Pink Lady, a cool rider, or an all-star jock? Rep your clique and, put a modern twist on a 50's classic with our customizable bomber jacket. This item features an outer shell of 100% polyester ideal for a wild all-over sublimated design or something as demure as Sandra D. We use the pantone matching system for color reference to be sure this creation is tailored to your brand. Complement your design by choosing a fleece lining from our stock colors and we'll add the private label.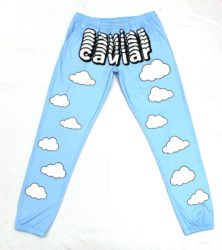 Unisex Sublimated Joggers
Channel your inner influencer in our new sublimated joggers. They are the perfect piece to keep you warm and on- trend this year. Customize them any way you want with panels, all over prints, oversized logos, and more!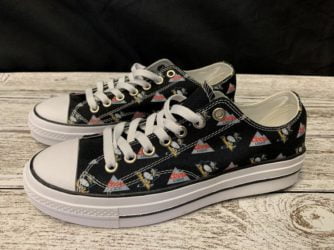 Custom Printed Tennis Shoes – The Scoots
100% custom printed shoes made with sustainable/recycled material. Any logo or design will make these tennis shoes a great way to promote a brand.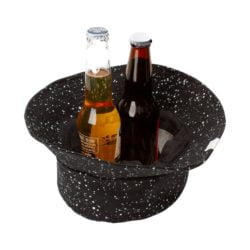 Custom All Over Print Cooler Bucket Hat
This amazing bucket hat is multi-purpose, functioning as both a hat and a drink cooler. It features an insulated inner where you can store your drinks and ice to keep them cool. Available in 15 standard colors or choose from 140 stock colors. With a one-color all-over print, your brand will be sure to get noticed. This hat is perfect for corporate events, outdoor events and schools. Upgrade imprint to embroidery. Plus sizes available.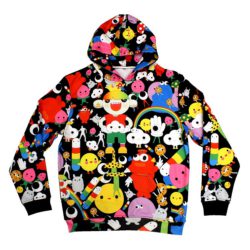 Unisex Pull Over Hoodie
Alright stop, collaborate and listen our dye sublimated hoodies are custom designed to keep you looking fresh in the iciest weather. Our custom fleece is a man-made wonder! Created from soft spun polyester spandex after a decade of research. The high percentage of polyester combined with our premium dye sublimation technology allows for a high color count and vibrant designs. Printing the fabric, before constructing the garment, allows maximum design coverage.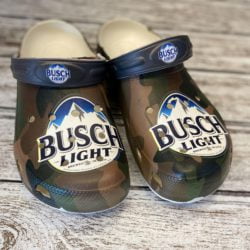 Custom Printed Rubber Sandals or Clogs
Completely custom rubber slippers to wear around the house while we work from home!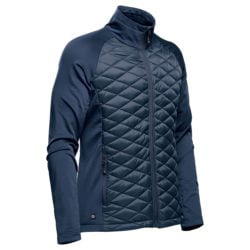 Men's Boulder Thermal Shell
Features:D/W/R Outer Shell;PFC-Free Water Repellent Finish;Feather Free Thermal Shell;Articulated Action Shoulders;Internal Full-Length Stormflap;Chin Saver;Zippered Hand Warmer Pockets;Adjustable Hem with Drawcord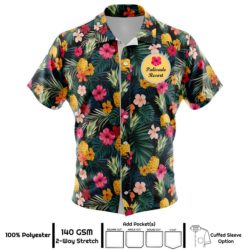 Unisex Full Dye Sublimation Hawaiian Shirt
Add some personality to your wardrobe with this dye sublimation Hawaiian shirt! Extremely lightweight and breathable for summertime wear, this top is made of 140gsm, 2-way stretch polyester performance fabric and features moisture-wicking, anti-microbial and snag-resistant properties. For button colors, we can cater to specific color needs. Customize each shirt with sublimation printing. Aloha!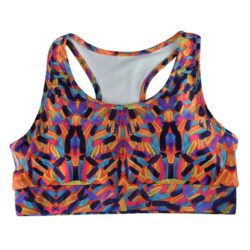 Sports Bra
This moisture-wicking sports bra allows for support while you live an active life. Made with durable polyester for a comfortable fit. Full sublimation options allow for a customized piece at your next sporting event.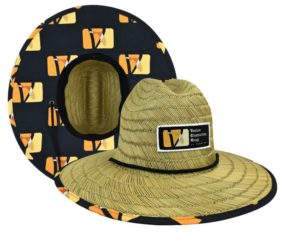 Zon Custom Lifeguard Straw Hat
These woven straw hats are lightweight and feature a chin cord with a slider for easy adjustment. These are an excellent item for the summer or any outdoor activity to help shield the sun. They can include a custom patch on the front. 4 sizes are available. Our straw hats have an internal head band to keep sweat off your face and insure a quality comfortable fit. 
As always, we can create just about anything you dream up. If you don't see what you're looking for in the full presentation link above, click here to give us a shout.
Don't let your company look outdated! Reach out to one of our SWAG Experts today and we'll begin designing something specifically for your company. Want to learn more about our bold fashion options? Click here! Click the button below to get started.