Take Advantage Of Events By Creating Stadium Must Haves
---
By Dean Schwartz (SWAG Master): Event SWAG, or "stadium must-haves", can be more impactful for your brand than you may realize.
Of course, creating SWAG specifically for stadium events will ensure that your brand is seen by a large amount of people – increasing brand exposure to that audience. But even better, the visibility of your brand is likely to be amplified through social media, with attendees sharing photos and videos of themselves wearing or using your products.
On top of that, these events typically have a lively and energetic atmosphere, with attendees in a celebratory mood and having a good time. When you create interactive or engaging SWAG at these events, your brand becomes associated with these positive feelings and instantly become more memorable. (And your SWAG becomes harder to throw away!)
But perhaps the best part is the fact that it allows you to target specific demographics and niches depending on the event, allowing you to tailor your product and messaging to leave the longest-lasting impression possible.
So, what are you waiting for?! Scroll through some of our favorite options below or reach out at the bottom of this blog to get started.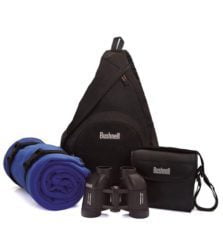 Bushnell® Tailgate Outing Kit
These Bushnell® Tailgate Kits are the perfect sporting event kit! They include a teardrop black sling backpack, polyester fleece blue blanket, and Bushnell® 7 x 35 Permafocus Binoculars (Model #173507). Binoculars have a focusing lever, non-slip rubber armor that absorbs shock, 7x magnification, 35 mm objective lens diameter and a 578′ field of view at 1,000 yards. With its unique "focus-free" feature that is ideal for sporting events.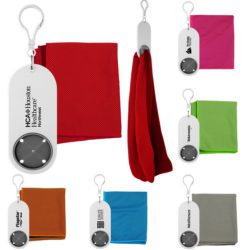 Keychain Holder With Cooling Cloth
Cooling Dry Cloth perfect for working out. Keychain Towel Holder. Add Full Color digital imprint. No rush available for full color digital imprint.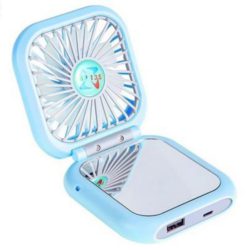 Neck Fan With 3000mah Power Bank
Lightweight portable desk 3-speed fan with mini-mirror and 3000mAh USB power supply for a cell phone charge when you need it. Can be worn around neck with fan cooling your face on a HOT day. Standard length lanyard, fan imprint and shipping included.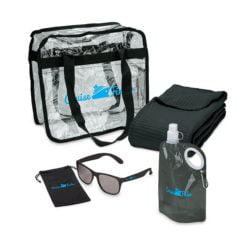 Hermosa 5 Piece Outdoor Fun Set
Just add sunshine with the Hermosa five piece outdoor fun set. The clear reusable tote features a large front pocket, mesh side pocket, zippered top closure and carry handles. Tote meets NFL security requirements. The all occasion anti-pilling fleece blanket has whipstitch edging and is made from 100% polyester. BPA-free PE plastic water bottle features a drinking spout, safety strap on lid and integrated carry handle, a 50mm aluminum carabiner clip and flattens for easy transport. The set also includes sunglasses and carrying case to complete this memorable promo!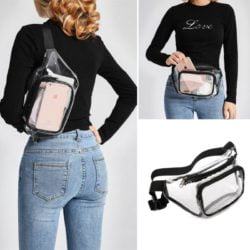 Double Zippered Clear Fanny Pack
This clear PVC fanny pack features two zipper pockets, reinforced with double stitching and nylon lining, this cute bag is durable and waterproof. The adjustable waist belt makes it convenient to wear.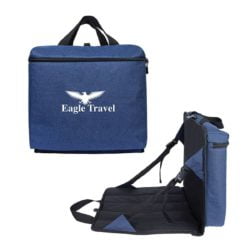 Montgomery Stadium Cooler Seat Backpack
Sit more comfortably and keep your snacks and drinks cool and protected with the Montgomery 18-Can Stadium Seat Cooler. This multi-function cooler includes a padded seat cushion and adjustable back support straps and its 15 1/2″ x 13 3/4″ x 2 3/4″ insulated cooler compartment is lined with food grade and heat sealed PEVA to help keep food hot or cold up to 8 hours. Bring it with you using the top carry handles or adjust the bottom handle straps and carry it as a hands-free backpack.
As always, we can create just about anything you dream up. If you don't see what you're looking for in the full presentation link above, click here to give us a shout.
Whether handing out the SWAG in preparation or giving it away at the actual event, creating promotional products that are "stadium must-haves" is always a sound investment for your company. By creating products that are visually appealing, practical, and memorable, brands can improve fan engagement, increase brand loyalty, and ultimately boost their bottom line. Click the button below to get started.